Originally, Jeff and I had planned that Guanajuato would be our last "destination" of our 4-month road trip before heading back to Puerto Vallarta and our home aboard El Gato in early October. But upon regular checks on the weather, we were dismayed to see that the temps in PV hovered consistently around the low 100's, when you added the humidity factor. Well, nothankyouverymuch. Since we had no interest in returning to what we left to escape (torrential rain, heat and humidity), we-that means I, perused Google to find another destination or two to enjoy before the eventual return.
In my research, I read about Patzcuaro, a colonial town on the edge of its namesake Lake Patzcuaro. OK, that looked interesting. I plotted our route, and noticed Morelia, the capital and largest city in the state of Michoacan, on the way.  Hmmmm… we have loved exploring Mexico's urban areas, so…
Wait! Michoacan? Oh, that changes things. The state of  Michoacan in western Mexico has quite a reputation, and not a stellar one.  Previously, my only reference to Michoacan was from the Cheech and Chong movie "Up in Smoke," describing the (many) kinds of weed they smoked. It was relevant to me, personally, because in the 70's in rural Appalachia, Michoacan was considered primo weed. (These days, from what I've heard, Mexican marijuana is usually crap.)
For many years, reported carjackings, kidnappings, murders, and other cartel-related crimes have discouraged tourists from visiting this western state. Beheadings are a thing of the not-too-distant past here. And I like my head-especially when it is attached to my body.
But, to put it into perspective, Jeff and I recently spent nearly two months in
Taxco
in the state of Guerrero, whose reputation is likewise dangerous, and we never felt unsafe there. On two occasions in Taxco, Nancy and I were walking alone (in daylight), and were told not to go on a certain street or area, and were shown a safer way to our destination.  That, and the little-talked about fact (until now) that Jeff was a close-up and personal witness to an assassination in Baja this year. It was a cartel vs journalist crime, and the assassin didn't feel it necessary to kill the only witness, so, we had that going for us.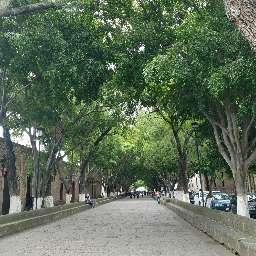 The city of Morelia itself, does not have a reputation for violence, especially against tourists. (Most places in Mexico don't).  Morelia sounded beautiful, but, in comparison to what? Up to this point, I believed we had seen the best of the Mexican cities. That cinched it. Next up?  Morelia.
The 2 1/2 hour drive from Guanajuato was bland in comparison to the "smack your granny" landscapes we had encountered over the past three months. But the highways were good (toll  roads). And fast. By mid-afternoon, we were checked into our hotel-the first and only actual hotel we used during this roadtrip. After walking the pups through the lovely, large park across the street, we set out for the Centro.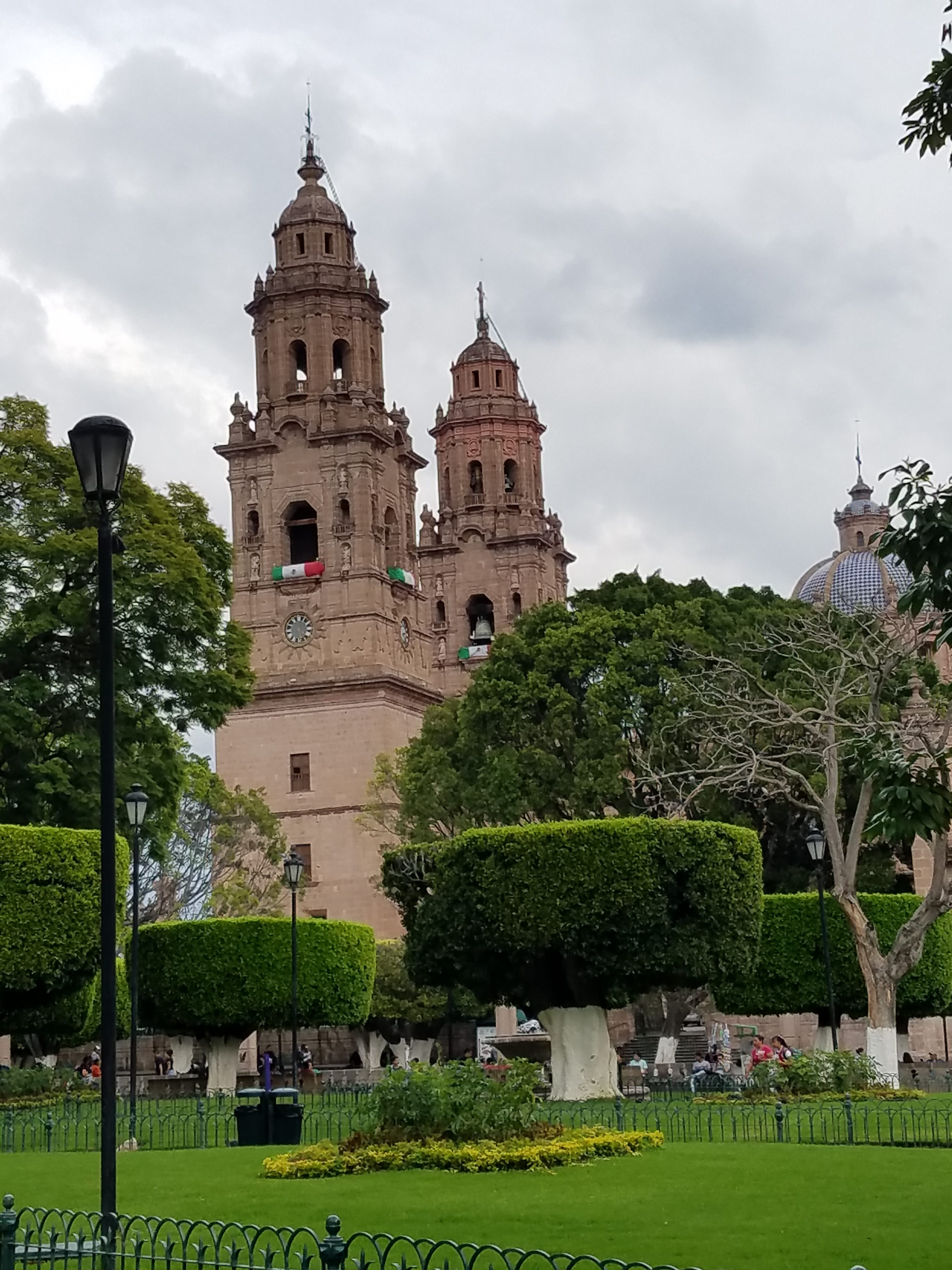 As a university city, Morelia seems to be made up of a large percentage of students and middle to upper middle-class residents. There was a medical school across from our hotel, and med students populated the park and nearby areas. Morelia is also home to one of the most important Film Festivals in the World.
The city was founded in 1541, and most of the original layout has remains intact. in fact, In 1991, the city was declared a UNESCO 
World Heritage Site
 for its well-preserved colonial buildings and layout of the historic center.  The streets are wide and the plazas large, unlike most of the towns we had visited up to this point. The central district is lined with shops, galleries and cafes. it is strikingly tidy, with no sign of the stray dogs we had grown accustomed to seeing.  And perhaps due to the lack of tourism, little English is spoken, and we really didn't see any other gringos during our visit.
The minute we got into the central district, we were awestruck at the slap yo granny beauty surrounding us. The buildings are all built with the local pink stone, and have been lovingly preserved over the centuries.  This was such a blatant contrast to Guanajuato, with its hodge-podge of color, size and character, and I enjoyed the soothing energy immensely.  Also in contrast to many of the cities we previously visited, the centro area of Morelia appears to have less of an indigenous population. I saw mostly students and business people.
That is not to say that Morelia, or Michoacan, is lacking in the fun and funky shopping for art that I have delighted in across Mexico. In fact, I found the artisan craftmanship in this Mexican state to be superior to most of what I have seen.  Michoacán is one of Mexico's major handcraft producers, with over thirty types including pottery, metal work, textiles, lacquer and wood working. This was an unexpected surprise, because  Michoacán handcrafts lack access to tourist markets.  The main promoter of Michoacán handcrafts is the state-run Casa de las Artesanías, and I spent several hours wandering the individual stalls and shops within the central building repurposed from a former monastery. I really wish I had been aware of the shopping possibilities here,  because at this point, our little rental car was packed as tight as sardines.
Just down the street from our hotel was Morelia's aquaduct. Built of stone in 1785, this mile-long Aqueduct with 253 arches is one of Morelia's biggest attractions. It was beautiful at night, lit up in all its glory.
After spending four days in Morelia, we agreed with other accounts that it is, perhaps, Mexico's Most Beautiful City You've Never Heard Of.