Have you ever arrived somewhere and known, within a minute, that you were meant to be there? It's more than just "Ohhhh, I  like this place." It's more like  "YES! This is it. I could live here!"
Well, that is how I felt when we arrived at our apartment in the colonia (neighborhood) of Condesa in Mexico City. (Condesa was one of the hardest-hit areas in the September earthquake and our hearts hurt for the wonderful people there.) Tree-lined avenues and wide sidewalks, tons of cute cafes, boutiques and galleries, and plentiful parks within easy walking distance. The only other place I have ever felt that instant connection was Vancouver. (You can read about our Vancouver adventures here)
Mexico City is huge. The city itself is home to nearly 9 million people. The metro area, however, has 21.2 million residents, making it the most populated urban area in the Western hemisphere. It's also high, with an elevation of 7,350 feet. Fortunately, we have been above 6,000 feet all summer, so altitude wasn't an issue for us.
Driving in Mexico City should be avoided at all costs. The first time we drove through, back in June, we went in circles for two-hours before we abandoned the pre-planned route, drove like, a thousand km. out of our way to get the hell out of the city, through an isolated national forest (NOT advised in Mexico at night!!!) and arrived in Cuernavaca (our destination) close to midnight.
This time, again, we got hopelessly confused. See, to drive in Mexico city on certain days of the week, you have to have special plates. Rental cars have to have pre-issued permits, and still can't drive on certain interstates. We did get pulled over and our papers were inspected, all was in order and we were free to go. That was fortunate, as we continuously hear about corrupt cops and their extortion games in Mexico.
So once we arrived at our cute little flat I had booked through airbnb, (and I will be writing a separate post on all of our experiences with rentals in Mexico), we tucked Carmen (our little Chevy rental) snugly into the garage and left her there for the duration of our stay.
Throughout out travels in Mexico, we have used Carmen soley to get us from city to city. Once there,  we rely on out feet, public transportation, Uber or taxis to get around. Mexico city has an extensive and inexpensive Metro system. And once you get the gist of navigating your way, it's a fast, easy option.
After 3 weeks in a remote, landscaped paradise, Mexico City was sensory-overload. In a good  way. With so much to do, we set out immediately on an open-air "red bus" tour of the Centro.
The zocalo was very crowded, lined with small kiosks selling tacky souvenirs for Mexican Independence Day (yes, we took the bait and bought flags and hats). Touts tried to entice us to eat in their restaurants or take their tours. We walked, like, 50 miles, exploring, eating, gawking. We also got quite lost and ended up in a seedy area that I was totally not comfortable with, but we kept our wits and made our way back to the "safety" of the tourist zone.
At the urging of several friends, we went to the Ballet Folklorico, which presents dancers in costumes that reflect the traditional culture of Mexico. The Palacio de Bellas Artes, where the dances are performed, is stunning with its Tiffany glass curtain. We recommend it!
Museums are plentiful, and we took advantage of our student status (using our id's from Spanish school–we are officially students for a year.) We especially enjoyed the Frida Kahlo Museum. If you aren't familiar with her story, I suggest watching the movie Frida.
Frida spent a good deal of her time in La Casa Azul, much of it convalescing from polio and a tragic accident. She is most famous for her self-portraits that reveal much of her inner turmoil.
We spent the better part of a day walking around the Museum of Anthropology, imho one of the best museums ever!  Considered one of the world's most comprehensive natural history museums, this famous institution houses four square kilometers of exhibits in 23 exhibition halls.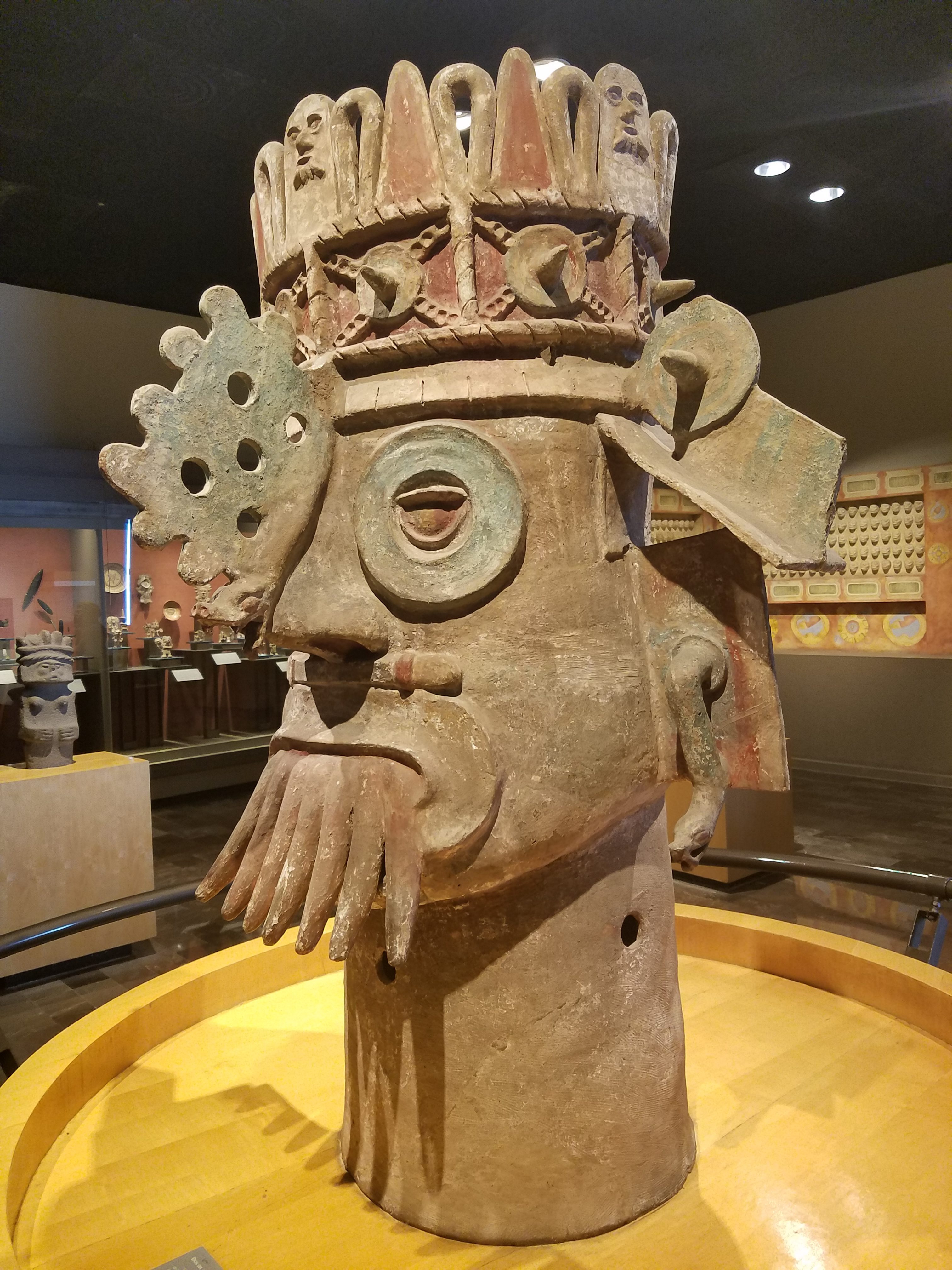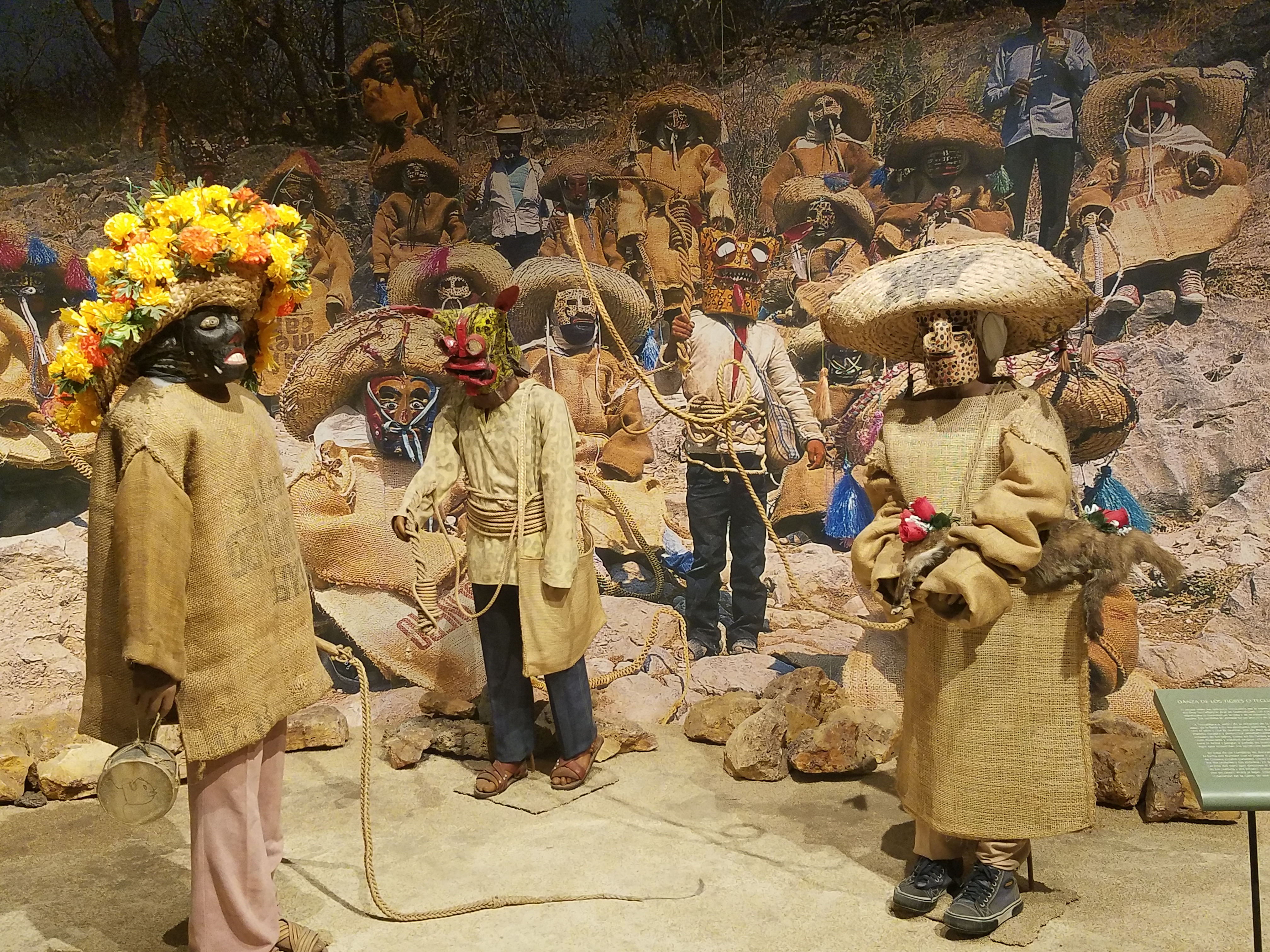 We only had 6 days in Mexico City. Not nearly enough time to take in the sights, smells, and chaos of this magnificent city. We will be back, for much longer. In the meantime, our hearts (and donations) are with the people throughout the areas effected by the recent earthquakes, as they dig through the rubble and try to resume their lives.