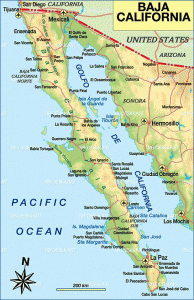 El Gato has just returned to Pacific Mexico from a three-month journey to the Sea of Cortez. We've heard about the Sea for a long time, but mainly when we began our cruising adventures in Mexico last year.
So, was it all that?  Well, it's hard to explain. It was sort-of what I expected, and, at the same time, not what I expected at all. And like my dichotomous expectations, the Sea, itself, was a dichotomy.
I'll try to expound on that, and describe our personal journey into what Jacques Cousteau called "The World's Aquarium". But first, just a little background info.
The Sea of Cortez is known locally in Mexico as the Golfo de California. It is the body of water that separates the Baja California Peninsula mainland Mexico. It is the youngest sea in the world, estimated to be around five-million years old. It is also one of most diverse seas on the planet, boasting a unique and rich ecosystem
After hearing from nearly everybody that we met while we cruised pacific Mexico in the winter season, it sounded as though everyone planned to head to the Sea come  March or April. That's just kinda what you do in Mexico if you are a cruiser. So I fully expected to be competing for a spot to drop the hook at most anchorages. (We do have an advantage, though, as El Gato is a catamaran, and can snuggle up nice and close to shore with our shallow (4-foot) draft.)
This was, indeed, the case the first few days in the Sea, on Ispiritu Santos Island. Many tourists and weekenders come there due to it's close proximity to La Paz, so we were among several boats, mostly power boats and and mega-yachts full of paying tourists or wealthy locals, along with their jet-skis and souped-up dinghy's. Me no  like-y.
As we moved north, we found ourselves more and more  isolated, and many times, we were the only boat in an entire anchorage. It was at these times I wondered what the hell? Where is everybody? But I became comfortable as one  of the only boats, and relished the isolation. We could hike for hours and hours and never run into another soul. A jack-rabbit, coyote, horse or cow, maybe, but no people.But within a few days, we were ready to move on.
This was our first visit to the Sea,  and we wanted to see as much as we could, between our visits to La Paz to renew our Mexican Resident Visa,  re-provisioning and picking  up and dropping off our visitor, Neil.
As beautiful as the Sea is, as magical as the islands are, my favorite times were when we were reunited with our cruising buddies. We enjoyed our times hiking, exploring and dining together.  It was a challenge to actually connect, though, at least for us, as our SSB (Single Side Band) radio wasn't really working, and there is no internet in 95% of the Sea. So meetups became a real treat while we cruised in that area. We did meet lots of new friends and fellow cruisers, however.
We were in the Sea from  mid-March until early June. In March, the weather was perfect.  Cool mornings, heating up to high-70's and low 80's during the day. But that early in the season, the water is too cold to comfortably swim or snorkel for long without a wetsuit.
By mid-May, the temps were very warm mid-day, but the water was perfect for a quick cool-off or short snorkel session sans wetsuit. I hear it gets brutally hot in the Summer, but a few hardy souls stick it out. Not for me, thankyouverymuch. We felt like the three months was about right, and the weather was, for the most part, always on our side.
I'll close Part 1 for now, but will continue with some personal experiences and lots more pictures in The Sea of Cortez, Part 2.  Please come back, ya hear?