Any sailor will tell you that a"schedule" is merely a suggested date and time. After 19 days, however, J Cruise has not only stayed on schedule, but earned a day, as well. We have managed to depart within 10 minutes of "tee-time" each travel day, and have arrived close enough to set a clock by.
Our first leg of our Ensenada to Cabo trip was an overnight hop to San Quintin, where we anchored in front of a deserted beach. Bringing the dink in for a beach landing was a little tricky, as the waves were big enough for some exciting body-surfing. But Dingo (the dinghy) was accessorized with her new wheels, and we timed the entrance with the breakers without problems, allowing the surf to carry us onto shore.
The dunes of San Quintin are ever-changing, and the constant wind blows a fine layer of sand across the sand-dollar strewn beach. We stopped in at a nearly-deserted but lovely hotel for a margarita and chips before heading back to the mother ship. The surf was up, and Dingo caught a wave, porpoising to a near-perpendicular breach, much like we have experienced on class V whitewater rafting trips. There was no carnage, however, and soon we were back on El Gato headed south.
Cedros Town, on Cedros Island, was our next anchorage, following a 25-hour sail. The townspeople take obvious pride in their home, and the pebbled beach, malecon and streets were clean and litter-free. As we walked through town, we were greeted enthusiastically by the local residents.
Since Cedros isn't one of the scheduled stops of the yearly Baja Ha-Ha, the town gets far fewer foreign visitors. We would soon learn the implications of being one of the stopovers for the hundred-plus boats that make that passage from San Diego to Cabo San Lucas every fall.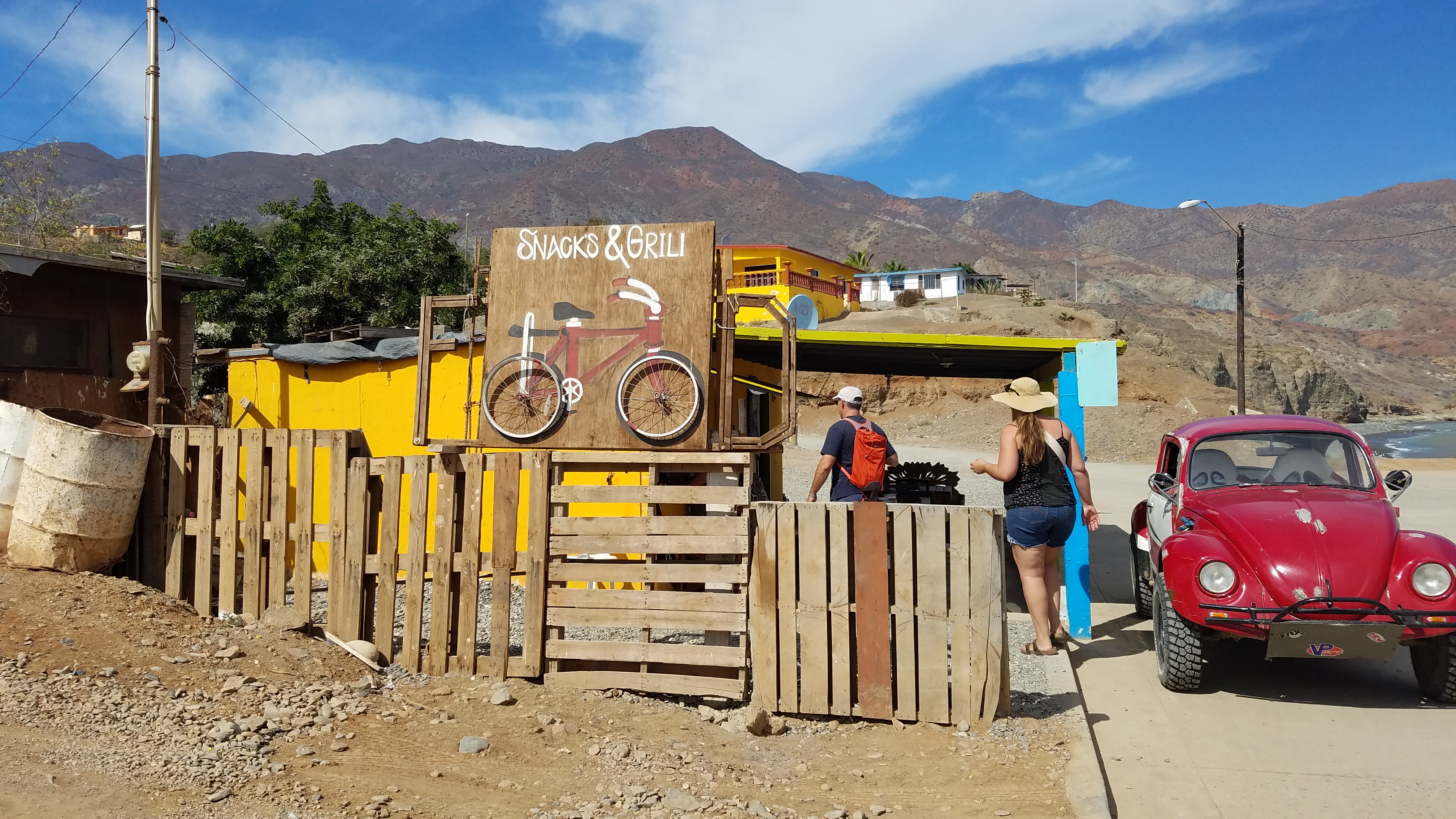 Turtle Bay is the first stop on the Baja Ha-Ha schedule, and it was our third stop. We purposefully avoided the scheduled rally, arriving here nearly a week before the masses. Within minutes of dropping anchor in Turtle Bay, pangas (local fishing/work boats) swarmed us like flies on poo. Did we want fuel? Water? Trash removal? No, no and no, gracias.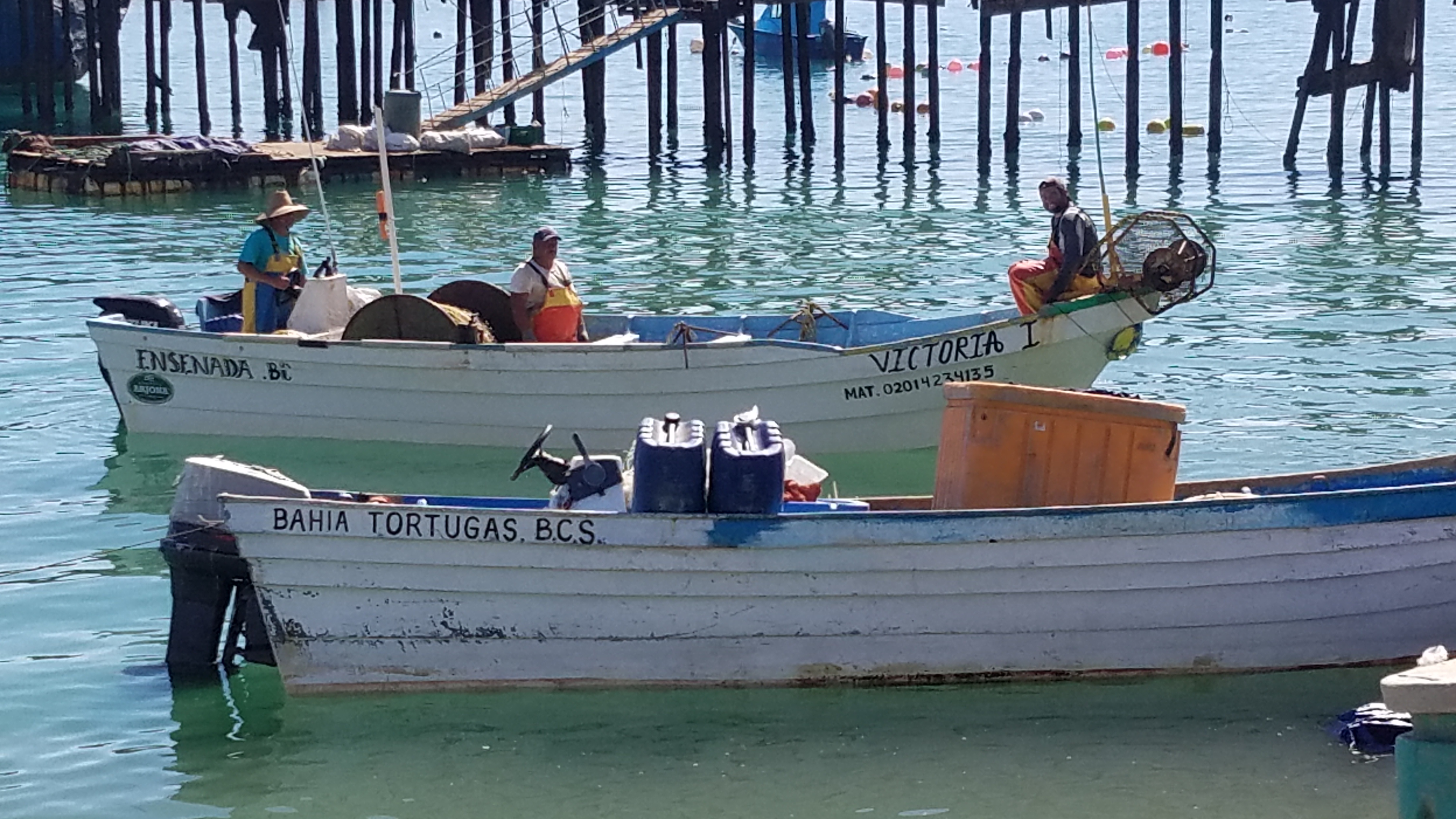 The pups were in need of a potty break on shore, so we set out on the dinghy for the nearby beach. A group of men on the rickety pier waved furiously at us, directing us to park our dinghy on the pier, where they would watch it in exchange for pesos. Not wanting to hassle with the dogs on the pier, we continued on to the beach as planned.
Without groaning on and on, I will simply say that our Turtle Bay experience was the low light of our entire trip. Badgered relentlessly by a one-armed opportunist who refused to take "no" for an answer, we cut our stay short and departed the Bay early the next morning.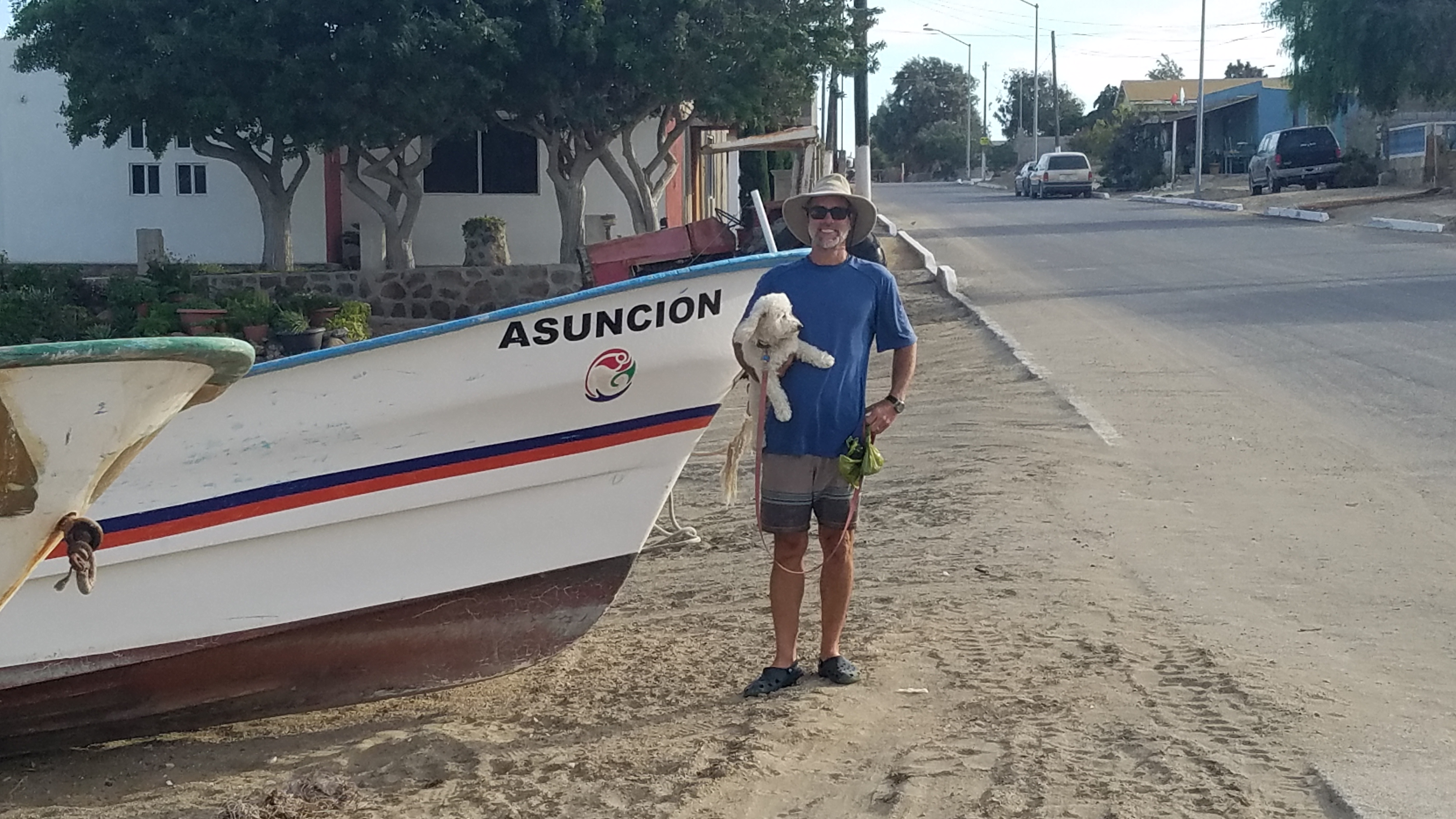 We arrived in Bahia Asuncion that evening, and were so happy to wander the clean streets and chat with friendly locals. Since this bay is not on the Baja Ha-ha route, they see far fewer cruisers come to their town. We were greeted by a group of boys that paddled their surfboards out to El Gato simply to chat and practice some English, and we were easily able to arrange with a local fisherman to take the J-boys and 9 empty jerry-cans in to the local Pemex station for diesel fuel. We gladly gave them a generous tip and they were gracious and grateful to have been of help.
Halloween was celebrated while underway. Jim hoisted the pirate flag he brought and each of us donned costumes and had our own private revelry under a dark but starry night.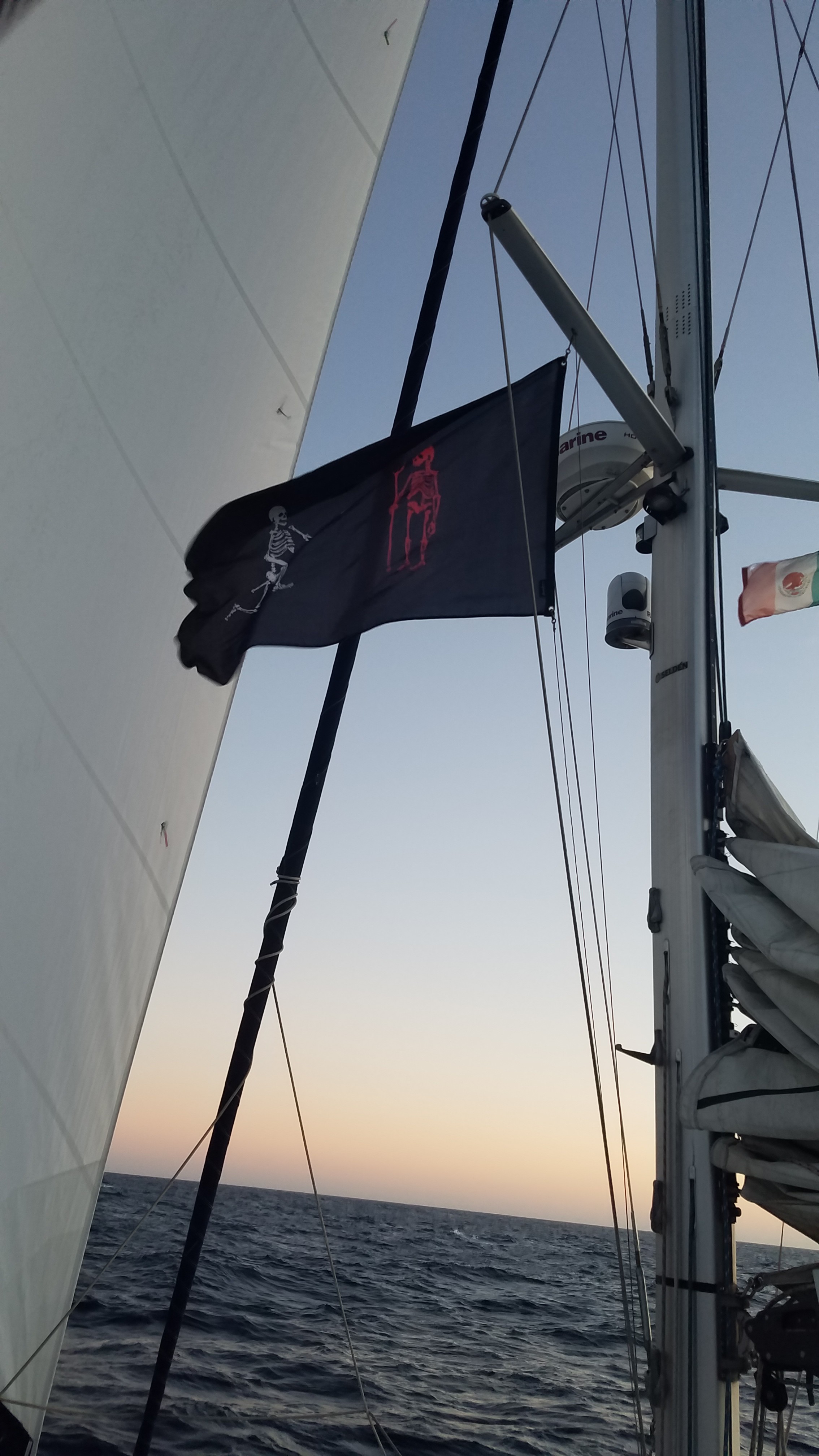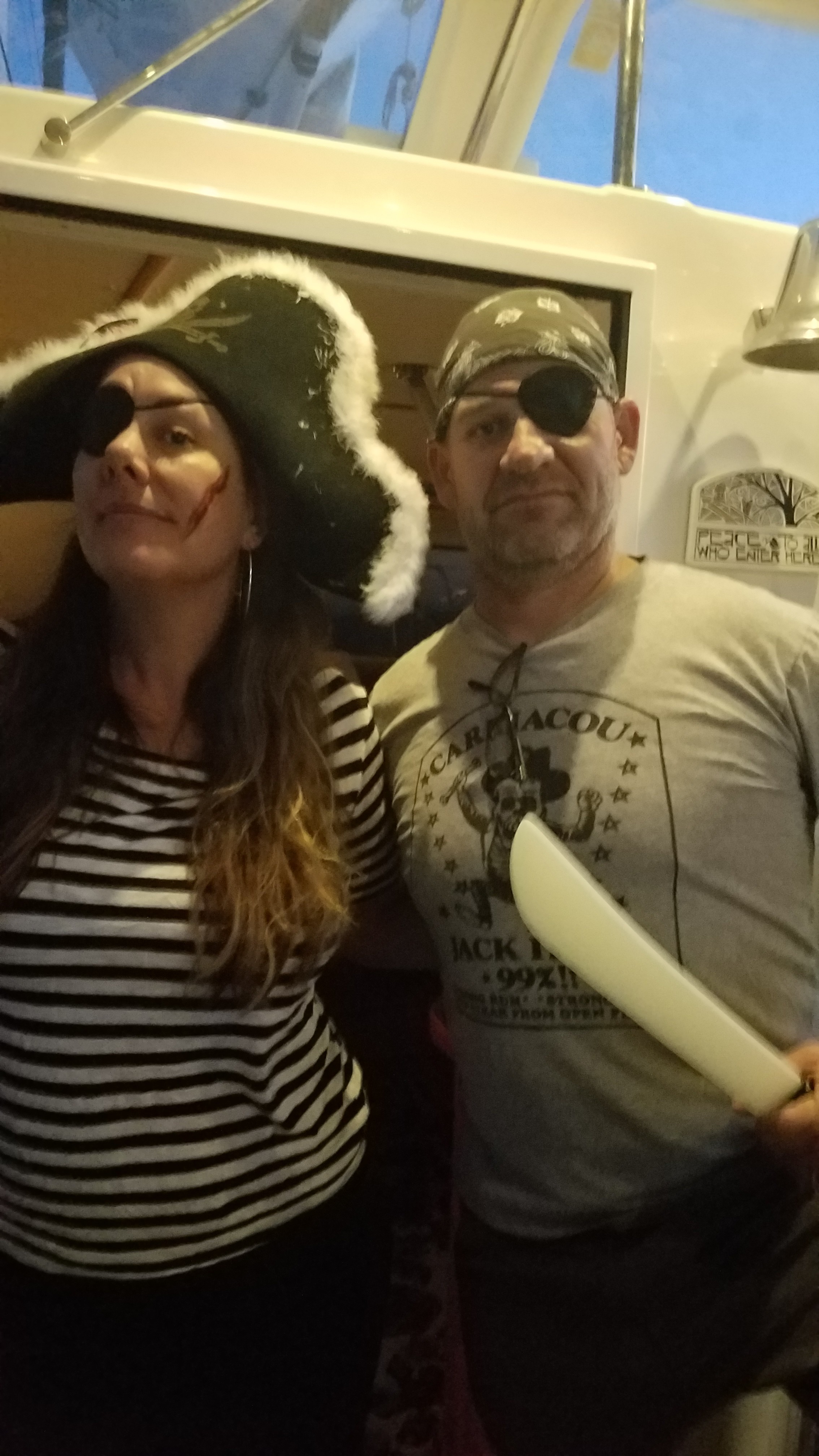 The next day brought us to the beautiful sandy beach of Bahia Santa Maria. Here there are a few fishermen's shacks scattered beside a long estuary, but they did not seem to be occupied. We spent 3 days here, playing in the surf and walking the miles of beach. To Chance's delight, there were crabs galore, and he never tired of terrorizing them. We, however, weren't so amused when he returned to us with a bloody face and cut lip following one particularly grueling duel.
Jess and Jim were having a blast boogie-boarding in the surf, until Jess realized it was rays, and plenty of them, brushing against her feet and legs. Jess has an uncanny ability to run fast through rough surf!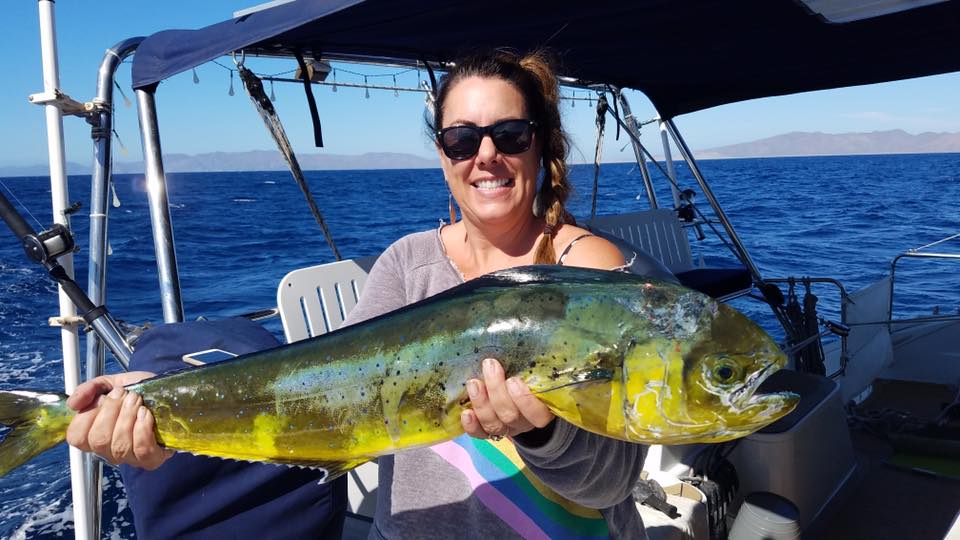 She also has a tenacious desire to catch fish, and her perseverance paid off in the form of a beautiful Dorado (Mahi Mahi). After thanking the fish and putting it quickly out of its discomfort, Jim, Chef Extraordiaire,  cleaned it and prepared some of the best ceviche I've ever eaten.
Our arrival in San Juan del Cabo seemed to come too soon, and our J Cruise crew agreed to extend the adventure and continue on to Mazatlan with us. We cut short the Cabo portion, as prices there are super-inflated and the marina is pretty removed from the town. We did make it to the Organic market season kickoff, which included lots of artists booths and great live music.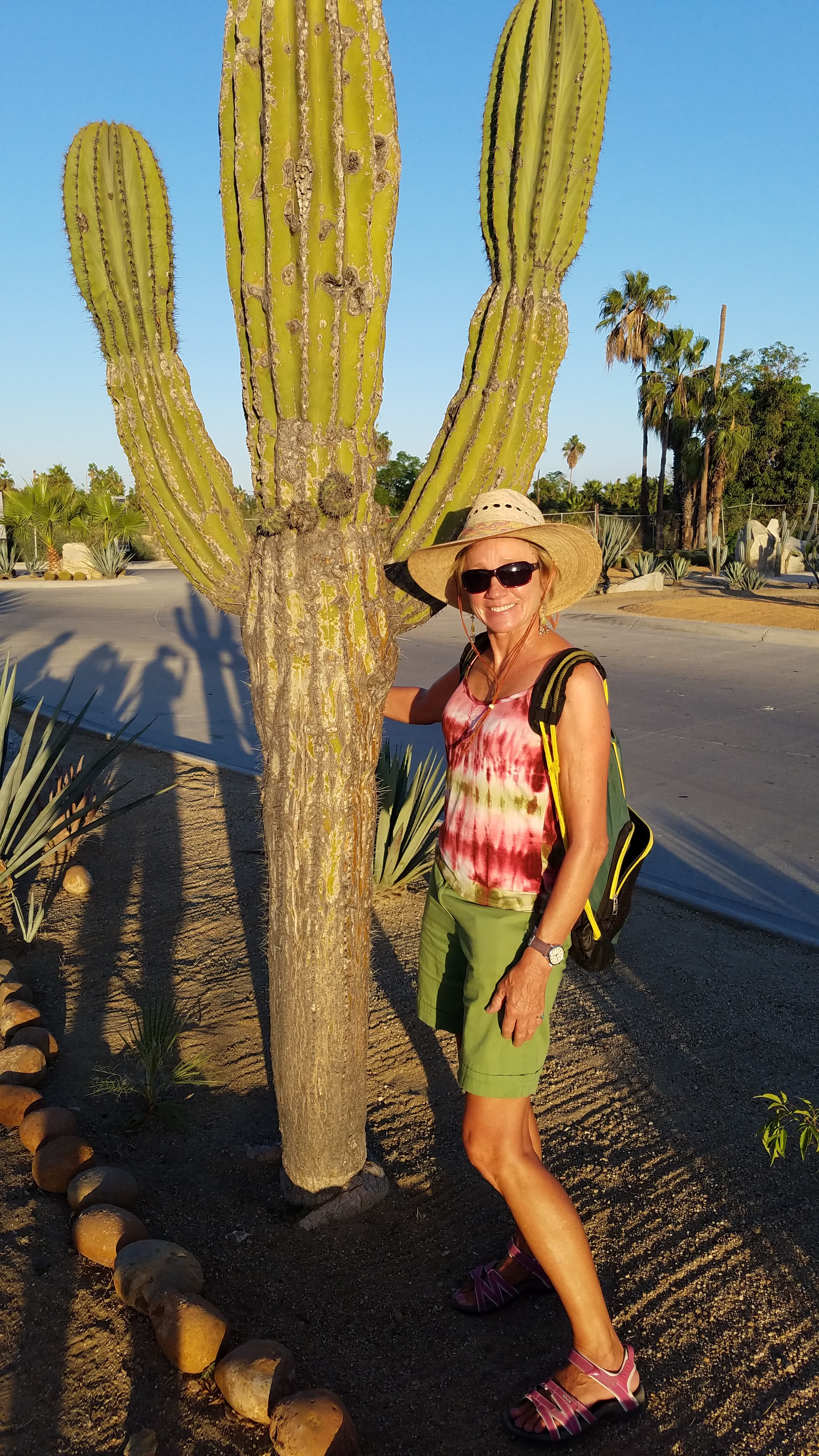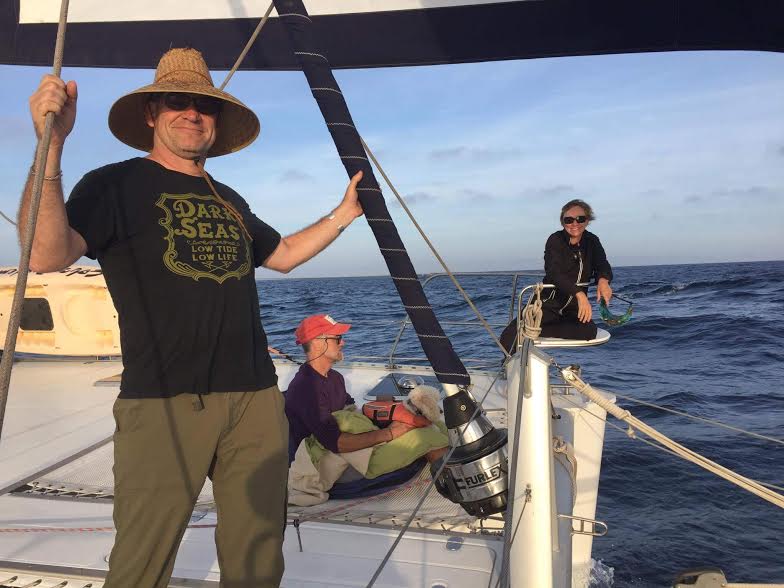 One day, Jess declared it "80's day" and we all dressed up and played only 80's music all day.
During the long and rocky overnight passage to Mazatlan, I woke from a semi-sleep for a pee-break. bracing myself on the toilet, I was struck by a strong fishy smell.
Shewww-God!! I need a shower!!!!
The next morning, the smell was worse. Investigating the source, this can't be me… I found the culprit partially rolled into a copy of the Gringo Gazette…. a 16″ long flying fish, that had fallen through the hatch mid-flight.
We arrived in Mazatlan after 28 hours of high-rolling seas and the biggest winds of the trip. (22 knots at times.)  Just in time for the election results (again, so relieved we were all on the same page politically—YES, it's important!!) and spent a few days exploring the city and enjoying the beach at Marina el Cid.
Ultimately, departure day came and we reluctantly bid adios to our new, dear friends. No mutiny was declared and we weren't murdered in our sleep. (Although I was a wee-bit worried that Jess may try to smuggle Chance home in her duffle.) Together for 2 ½ weeks, we cooked, sang, danced and shared life stories and philosophical beliefs with these former strangers. I know we will be forever friends. I also know we will be join one another again, somewhere, sometime, in the not-too-distant future.