Holy Moly! In less than ONE WEEK El Gato will be heading down the Baja Peninsula to points south. We have been in Ensenada since April, getting to know the boat (we took possession of her in January in San Diego) and outfitting her for cruising.
So, you'd think after half a year here, (half a year??!!) we would know this place inside out and upside down. But suddenly, now that departure is within grabbing distance, I feel there is so much more to see and do in this cool little city on the bay.
Ensenada is the third largest city on the Baja Penninsula, and estimates range between half a million to a million and a half. Whatever, it's big.
But as big as it is, it is a walkable city, in that most places we need to go are within walking or biking distance from the marina. (It's a good thing we bought some el-cheapo bikes on craigslist in California.)
Since our arrival, the malecon (paved walkway along water's edge) has been completed, including a new pedestrian bridge that leads to the cruiseship port and our marina. Lighted, dancing fountains are expertly (usually) synchronized to music play a variety of music by night. By day, they serve as the best cooling off/playing spot for kids. Families gather, festivals fest, lovers love. It's a sight to behold.
Ensenada is known throughout Mexico as a haven for foodies, and new restaurants continue to open, including Capitan Cortez with Chef Juan, who will create a meal to remember. Order off the menu, or ask him to prepare you a meal from the days freshest catch. You won't regret it. Capitan Cortez adjoins one of the best seafood markets in the city.
Or have a bite at Sabina, the sit-down sister to world famous-Anthony Bourdain recommended- street stall La Guerrerense, The ceviche is to die for, and my favorite, pulpo (octopus) tacos, melt in your mouth. Food is served cafeteria-style, and you dress your tacos with the array of condiments on offer. The pepina agua fresca has become my go-to drink. It is a strained cucumber juice with lime and chia. Sooooooo refreshing. (They offer beer and other drinks, as well.)
The fish market just off the malecon is busy, loud, crowded and smelly. And fascinating. It makes for great photo-ops, and the cafes that line the sidewalks nearby are the perfect place for a fresh seafood meal, seafood cocteil or cervesa.
The street food stalls in Ensenada (and all around Mexico) provide fresh, fast and inexpensive meals, as long as you don't mind standing and eating on the street, as most don't have chairs or tables. It's a good way to interact with locals, though. Pick ones where there are other people eating, so you know the food is fresh.
Before we left the states, I was concerned that I wouldn't be able to find "necessary" items. Note—necessary is subjective now that I'm here. I've learned I can get along just fine without a lot of the crap I thought I needed. But shopping here leaves little to desire. Costco, Walmart, Home Depot and large grocery stores are all within a bus or Uber ride. (Yes, Uber is everywhere, and here it is CHEAP!!!!)
Some of my regular haunts are DAX, a variety store that carries housewares, cosmetics, toys and more.
Lolis (Av. Gastélum #582) is a packed little tienda with an identity crisis. There you will find a mish-mash of everything. Utensils, hardware, paint, pet supplies, cosmetics, educational aids for kids, paper goods and wrapping supplies…Need a shop-vac? Got it. Socks for baby? Check. Cell phone case, sunscreen, toilet plunger? You're covered.
And one of my favorite past-times is perusing the stalls upon stalls of mostly used goods at Los Globos Mercado, a 30-minute walk from the marina. Los Globos is a non-touristy, open-aire flea market selling everything from antique jewelry to used undergarments. I have scored some real deals here, including a new mountain bike tire for $5, lightly-used athletic shoes, assorted clothing, boogie boards, a wetsuit and a backpack for pennies on the dollar. (But bring pesos, por favor) This is a great place to practice your bargaining skills, too. There are food stalls here, as well, to purchase fresh fruits, veggies, spices in bulk, meats, eggs and more.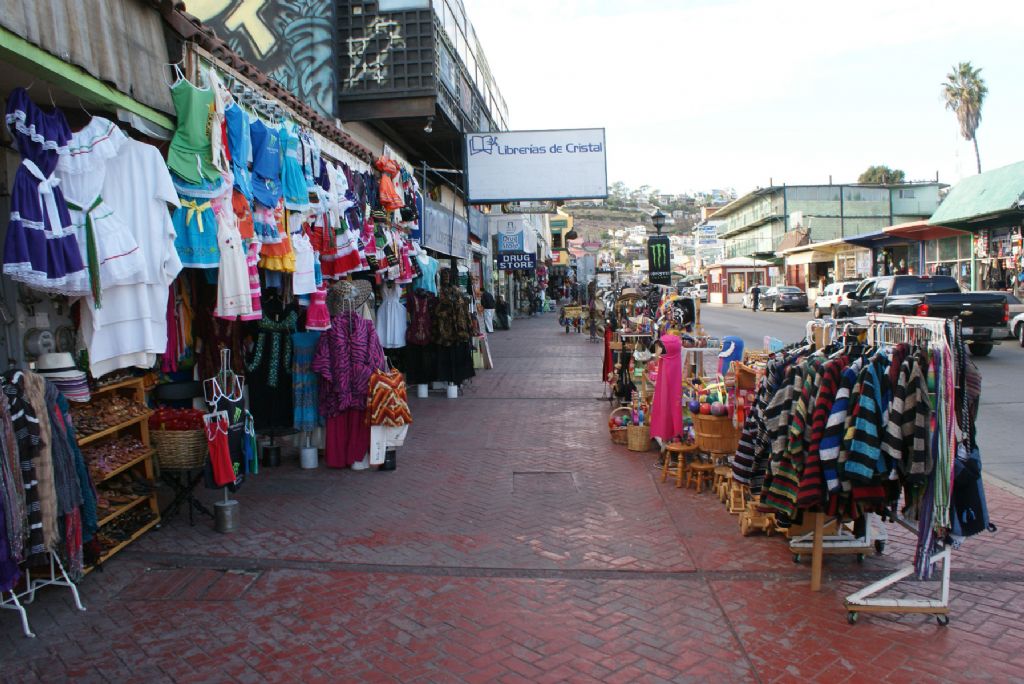 Jeff likes his craft beer, and Cerveceria Wendlandt was one of our favorite places to have a beer or two. Their IPA's and Amber ales are especially good. Their bar food is above average, as well. The trendy but friendly little bar opens at 6pm, and by 8 is typically filled with locals and a few gringos in the know.
Ensenada also has beaches within walking distance. The further from town you go, the cleaner and less crowded they are.
Hmmm… so I guess in the 6 months we've been here I have seen a lot, but my guess is, given more time, there would be plenty more here in Ensenada to discover.
But I'll take what I got, because there's a whole lotta exploring to do as we continue our travels south in Mexico!